Finding Exceptional Care for Your Child Is Worth the Trip
Here's why. While many pediatric health conditions can be treated and monitored close to home, when your child has a complex cardiovascular, neurological, gastrointestinal, orthopedic, or ear, nose and throat condition, you need access to specialized care and the latest research, treatments and clinical trials. At Ochsner Hospital for Children, we offer the specialized expertise, safety, quality and best-in-class patient experience your child and your family deserve. This expertise is fortified by innovation as a research and teaching hospital training the next generation of pediatric specialists
Finding Exceptional Care for Your Child Is Worth the Trip
.


"The Pediatric Cardiology team at Ochsner Hospital for Children helped create the beginnings of an amazing life for my son, Beau. Because of the lifesaving measures they took for him, he is now a happy, healthy 2-year-old running laps around us daily!"
Hillary A., mom of congenital heart disease patient


Convenient Accommodations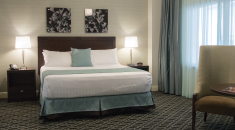 Located right on the Ochsner Medical Center campus, on Jefferson Highway, the Brent House Hotel is the ideal place to stay when you're traveling for care or need to be near loved ones who are receiving care at Ochsner in New Orleans. Brent House is conveniently located between Louis Armstrong International Airport and Downtown New Orleans.
What to Expect
Access to the Latest Research and Clinical Trials
Our patients turn to us for advanced diagnoses and treatments based on the latest research. Ochsner's pediatric specialists regularly conduct a wide variety of clinical trials to increase patient access to the most advanced and effective treatment options before they are available to the public.
Top Reasons Patients Come to Ochsner for Pediatric Care
Neurology and Neurosurgery

Epilepsy Monitoring Unit
Normal Pressure Hydrocephalus Treatment
Treatment of Cerebral Palsy, Neurometabolic Disorders, Tuberous Sclerosis and Neurofibromatosis
Appointment Scheduling Information
Same-week appointment access
Virtual visits
Call 504-842-3900 to schedule
Learn More About Virtual Visits
Where We're Located
Ochsner Hospital for Children
1514 Jefferson Hwy.
New Orleans, LA 70121